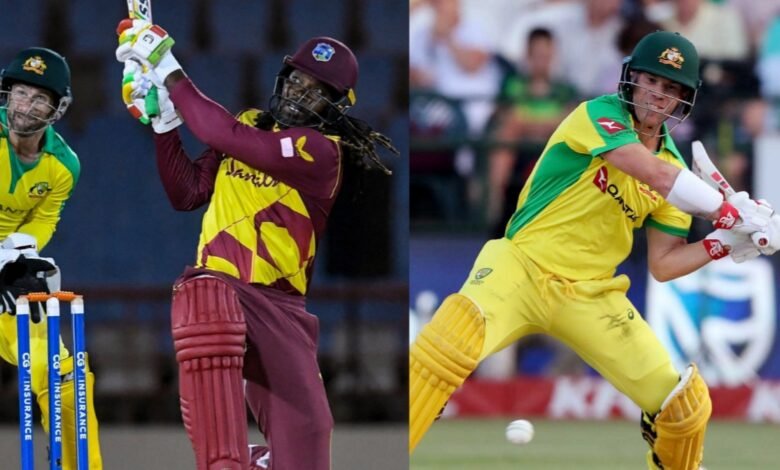 Most T20 runs: T20 cricket is probably a paradise for the batsmen, as it brings us the entire transitory thrill of an exciting contest between the willow and the leather. As the entire fabric of cricket is changing from an enduring format of Tests to the fascinating excitement of T20 cricket, the world has been hooked by some dominant monikers who have posted a scintillating display in the shortest format of the game.
Despite the fact that batsmen make merry in this format, it is also an extremely demanding stature of the game. It takes a lot from a cricketer and delivering consistently in this version isn't really an easy task. The ones who have managed to stay despite all the strident demands of T20 cricket have established themselves as paragons of the sport.
Once again, despite batters making merry in this format, it is another tall ask of the willow-swingers to conjure more than 10000 runs. An apparition that only allows you to bat for twenty overs and the number of centuries are limited, you have to rely on a short burst of excellence to deliver those big scores.
With all said and done, a few scintillating monikers have managed to reside in this most gruelling format of the sport and blast more than 10,000 runs, which is nothing short of Herculean. In this story that also comes in the wake of Gayle's 14000 runs, we will be taking a look at four cricketers who managed to pile up more than 10000 T20 runs.
1. Chris Gayle – 14038 runs
The Universe Boss is one of the most dominant cricketers to have played this captivating format of the sport. Being candid, he isn't fully fit and the onlookers are well aware of the fact that how he hobbles and stutter to run between the wickets. Yet, he is the leading scorer of the pack and the difference between him and the closest contender is more than a lifetime achievement of a good T20 cricketer.
Gayle has successfully amassed 14038 runs in the span of 431 matches out of which he featured in 423 innings. He boasts of an astonishing average of 37.63 and a staggering strike rate of 146.18. He has hammered 1083 boundaries and 1028 sixes. A format that challenges even the Gods of cricket has borne witness to 22 centuries and 87 half-centuries. He has plied his T20 trade for notable appellations like Jamaica, Jamaica Tallawahs, Karachi Kings, Royal Challengers Bangalore, Kings XI Punjab, Kolkata Knight Riders, Lions, Melbourne Renegades and most importantly West Indies.
2. Kieron Pollard – 10836 runs
A beast, to be honest, Kieron Pollard is someone who can completely change the dynamics of the game in the flash of an eye. May it be those humongous sixes raining down upon the audience or may it be those spectacular catches with those robust safe hands, Kieron Pollard is the boss of the shortest format of the sport.
He has been playing the sport for a staggering 15 years now and he simply doesn't know how to stop. Despite being confined to a solitary discipline of the sport, Pollard has squeezed his absolute best for every single delivery that has unfolded ahead of his eyes. From 545 matches, he has starred in 484 innings, garnering 10836 runs at a decent average of 31. However, what does capture our attention is the overwhelming strike rate of 152.68 with 730 sixes and 685 boundaries. He has shared allegiances with Adelaide Strikers, Barbados Tridents, Cape Cobras, Melbourne Renegades, Mumbai Indians and West Indies.
3. Shoaib Malik – 10741 runs
The Pakistani all-rounder has exhibited steep decency to establish himself as one of the leading run-getters in the shortest format of the game. Been in the circuit for 16 long years, he has featured in 425 matches, batting in a titanic 397 innings, he has blasted 10741 T20 runs. He also boasts about a strong average that reads 37.03 and a breezy strike rate of 126.66.
Pakistan has suffered in spotting long-term talents for their national team whenever it came to T20 cricket but this man has always proved a point with both the bat and the ball. He is also one of the handful few to have played in IPL for Delhi Daredevils. His list of T20 teams is equally impressive as the other two as it features the likes of Barbados Tridents, Hobart Hurricanes, ICC World XI, Karachi Kings and Pakistan.
4. David Warner – 10017 runs
Warner has bagged three Orange Caps in the Indian Premier League and is the leading batsman to do so. He is an absolutely rampant force in the colours of any team he has played for. He has set the benchmark for himself so high that whenever he carves anything short of that, it is being deemed as something unacceptable.
Warner has played 304 T20 matches, batting in 303 innings which saw him piling up 10017 runs at a fine average of 37.03. He also has a blistering strike rate of 140.80 backing him up his burning batting credentials. He has smashed 8 tons and 82 fifties in his glorious batting antiquity. He has a career-best score of an unbeaten 135 with 973 fours and 379 sixes throughout his wholesome career.