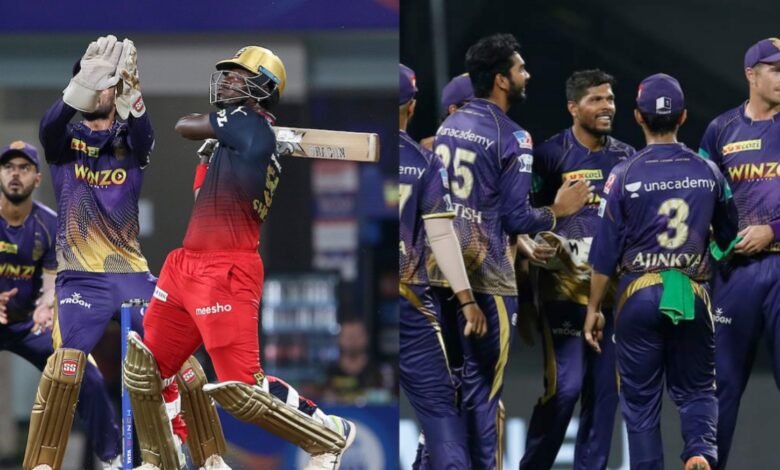 Royal Challengers Bangalore defeated Kolkata Knight Riders by three wickets on Wednesday. It was a close game that went down to the wire. Although KKR did well in the second innings, their main reason for the loss was their dismal batting show. Hence, they will have to make a few changes and will also concentrate on having more depth in the bowling department. The team will next face the Punjab Kings on April 1st at the Wankhede Stadium. In this article, we take a look at two changes KKR might make for their next game against Punjab Kings.
1) Chamika Karunaratne for Andre Russell
Chamika Karunaratne for Andre Russell is one of the changes KKR might make for their next game against Punjab Kings. Talismanic all-rounder Andre Russell had a terrific show with the bat against RCB but could not replicate the same performance with the ball. Also, it appeared that the player might have suffered a niggle that did not allow him to be at his best with the ball. With the next game happening within a space of 1 day, KKR might not want to risk Russell. Hence, they could rest him for the next game.
If Russell is not available, Sri Lankan all-rounder Chamika Karunaratne could get a chance. Although he is close to Russell's profile, the Sri Lankan player will have big shoes to fill in terms of impact. Nevertheless, it will be a good chance for him to showcase his skills.
2) Shivam Mavi for Ajinkya Rahane
If Russell does not get picked, KKR will have no option but to bring an extra bowler. Chamika Karunaratne cannot be relied upon for four overs and since Russell used to do a job at the death, KKR would need a genuine bowler for the job.
Although Rahane had a great outing in the first game, KKR might be forced to replace him. Venkatesh Iyer is a multi-dimensional cricketer and is important to the balance of the XI. Sheldon Jackson has been influencing games from behind the stumps and therefore, he may not be dropped. In Rahane's absence, KKR might partner Venkatesh with either Narine, Sheldon or even Billings.