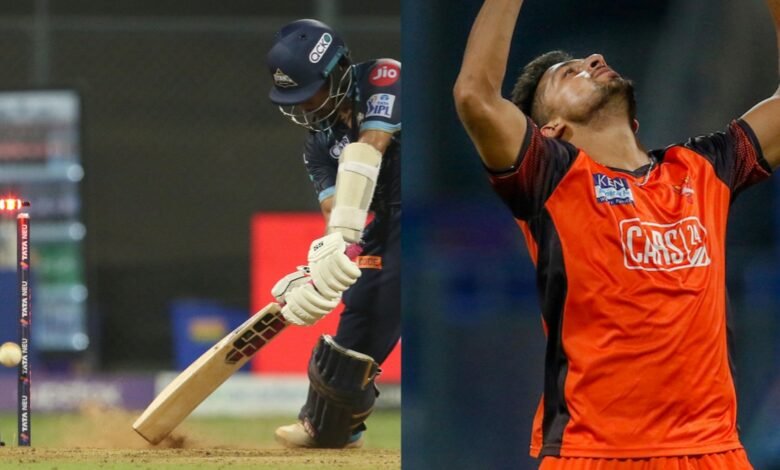 It was a heartbreak for the Sunrisers Hyderabad after a peach of a display from their most promising youngster, Umran Malik who claimed a fiver in scintillating fashion almost sealing the game for the Sunrisers until Marco Jansen totally lost his plot in the final over.
The young fast bowler was shouldered with the onus of starting the middle overs where he started with a handful of gems that would eventually crash onto Gill's stumps while the latter wanted to be cheeky.
This is how Umran Malik wreaked havoc against Gujarat Titans
Despite being whacked for a boundary on the last ball of the over, the speed gun read a staggering 152 clicks that would bother any batter in the world.
It seemed that luck was going Pandya's way as Umran's brutal pace did manage to produce a mishit on the first ball of his second over but then there would be no one to grab it. The following ball, however, was that evil bouncer that would leave Hardik rattled completely as his late attempt to play an uppercut would land in the arms of the third man fielder.
It was another peach from the Jammu youngster that would send Saha's stumps for a walk as he would produce the much-needed ripper at 152 kays, dismantling the ambitions of the wicket-keeping batter completely.
Wickets are gems for fast bowlers but when the stumps go for a toss, there is no better pleasure for a quick than to hear the sound of the stumps flying. He claimed Miller and Abhinav Manohar with a couple of brutal bullets that would raze through their defences and destroy their timbre.
It was good to see that his mentor in the dugout, Dale Steyn would be acknowledging how far the youngster has come where he has harnessed his raw pace and known how to channel it properly. Twitter went berserk as they saw Dale Steyn acknowledging the youngster's reckless and brutal fast bowling.
152.8 kph yorker to dismiss the most well-set batter and Dale Steyn seems a proud man. Umran 🔥#IPL2022 pic.twitter.com/uj1c6QHkAG

— Vinayakk (@vinayakkm) April 27, 2022
Student and teacher ❤️.#UmranMalik #dalesteyn #IPL2022 #iplmememes #SRHvsGT pic.twitter.com/imXGwqxVJv

— Manish Kumar (@zapmanish) April 27, 2022
Photos of the day…#UmranMalik and #DaleSteyn#IPL pic.twitter.com/2WS0sySzNZ

— Saurabh tripathi (@Saurabh_LT) April 27, 2022
Petition to make Dale Steyn as bowling coach for India ♥️ @DaleSteyn62
Umran Malik 🤝 Dale Steyn
Learning from the best ♥️

First he helped Bhuvi than transformed siraj and now working with Umran. 🔥#srhvsgt #dalesteyn #umranmalik@CricCrazyJohns @mufaddal_v0hra pic.twitter.com/r1YA3bmCFg

— Utkarsh Shrivastava (@Utkarsh60808387) April 27, 2022
#DaleSteyn ruled cricket world for almost 15 years. Even the strongest of batting lineups used to hate facing his fierce pace and aggression. Today, after a few years of his retirement, he saw himself in #UmranMalik. This was his reaction when he picked a fifer. #GTvSRH #IPL2022 pic.twitter.com/96E5QqWmUn

— Tejan Shrivastava (@RealBeingTeJan) April 27, 2022
No need to right anything just enjoy the pic of Dale Steyn and umran malik ✌✌✌ pic.twitter.com/QzhYkqB4za

— Mr_innocent (@SyedMud82546351) April 27, 2022
Ladies and Gentlemen
This is Umran Malik Student of Dale Steyn @DaleSteyn62
And the Future of Indian Cricket ❤️ He has some Serious pace.
152 kmph. #IPL2022 #SRHvGT #UmranMalik pic.twitter.com/fPcKmhVVun

— Humza Sheikh (@Sheikhhumza49) April 27, 2022
Umran Malik warra player & opened a fifer 4-0-25-5
love his aggression and attitude, oof serious pace, Dale Steyn making him a beast indeed pic.twitter.com/UiqTeuaT3U

— S H I V A M (@shivammalik_) April 27, 2022
Hahaha.
Dale Steyn watching with silent pride at both Umran Malik shattering stumps at pace *and* his high intense celebrations.
Gold.

— Sorabh Pant (@hankypanty) April 27, 2022
#UmranMalik remember the name
Take a bow to Dale Steyn sir, who has faith on Umran Malik. Now let's see his consistency and accuracy with sheer Yorker. World cricket ready to handle the Speedstar..💪#SRHvsGT

Teacher Student pic.twitter.com/bLhDqek7pz

— Ashutosh Srivastava (@kingashu1008) April 27, 2022