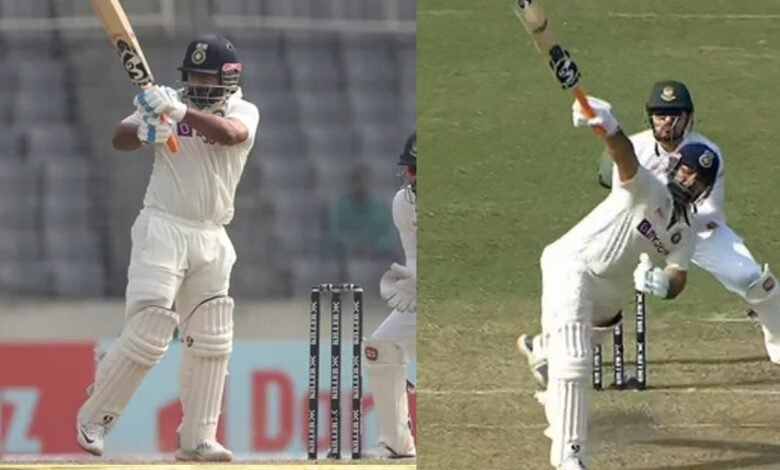 Although India started well with the bat, they lost wickets quickly. Yet again, it was Rishabh Pant who stepped up for the men in blue. Here, we take a look at how Twitter reacted to Rishabh Pant's innings which might save India yet again from a defeat.
Rishabh Pant's innings saves India again
Rishabh Pant may not be in top form in the other formats but in Tests, he is currently India's most important player in the middle order. For the past few years, he has been pulling India out of a hole and this happened again on Friday against Bangladesh.
India was 94-4 at one point in time. Bangladesh ensured none of the Indian Top 4 batters could apply control over the game. The visitors needed a strong response to take lead in the game. Hence, Pant had to step and he did so with elan. He hit boundaries and sixes consistently to put pressure back on the Bangladesh bowlers. It was a fine effort by Pant and he was supported well by Shreyas Iyer. India has now taken lead and with the all-rounders set to follow, India will look to close the match by taking a big lead.
Twitter reacts to Pant's effort
Meanwhile, Twitter was extremely pleased with Pant's effort. He has been low on confidence in the last few months. A few even questioned his place in the Indian Test Team, which led to big debates on social media. For Pant, as well, this innings could kickstart his return to form. India will be benefited from Pant's knock, which would solve a lot of issues for them. Pant can now be back on the ODI squad with good momentum. With the player helping India yet again, there were a lot of reactions on social media. We take a look at some of them below:
It's getting countless how many times Rishabh Pant has saved India since Sydney Test.

— Johns. (@CricCrazyJohns) December 23, 2022
Champion test player. https://t.co/lnvlkm7A9Q

— Himanshu Rastogi (@HimanshuR7777) December 23, 2022
He had 114 vs Eng in Eng, 159 vs Aus in Aus, 2 92s vs WI and numerous 30s as well prior to that as well https://t.co/JBf9m9zdJw

— अकल Ball (@ananditgaurav) December 23, 2022
Rishabh Pant in test 🔥 pic.twitter.com/tfTdZudDol

— Kaushik 🇮🇳 (@the_memer_kid_) December 14, 2022
Rishabh Pant should be India's red ball captain NOT KL Rahul. @RishabhPant17
RT if you agree.

— Sushant Mehta (@SushantNMehta) December 23, 2022
The next gen Superstar in Cricket https://t.co/ue0tUJ9xKj

— vamsi (@urstruly_vamsi) December 23, 2022
India gave white ball cricket's greatest wicketkeeper-batsman in MS.
It's now turn to give the world its greatest red ball wk-batsman.

What a talent 🤌 https://t.co/rWylGE4qF7

— RuturajFan (@RuturajFan) December 23, 2022