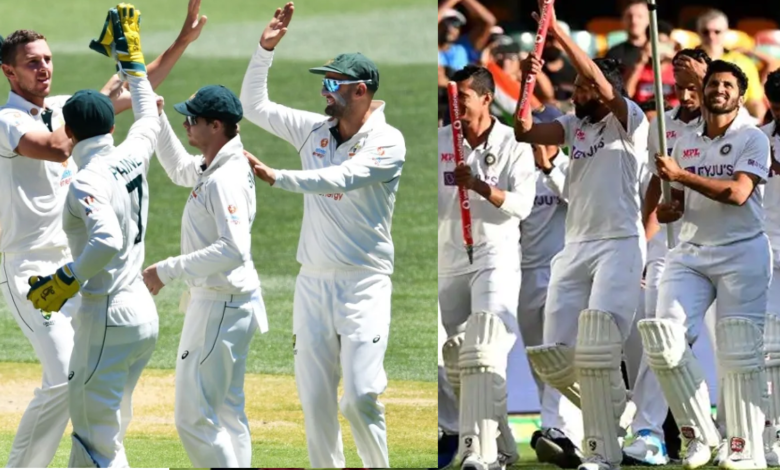 In a pleasing development for Test cricket, Cricket Australia has announced that the Indian cricket team will compete with the Aussies in a five-match Test series during the year 2024. Generally, the Border/Gavaskar Trophy series comprises four Test matches, but in 2024, fans will witness a five-match series.
It has been a long time since the Indian cricket team played in a five-match Test series. The last time when India toured Australia for a Test series, the Indian squad was depleted due to many injury issues. The team management had to use the net bowlers to complete the playing XI for the final Test match.
Despite all the problems and facing a full-strength Australian squad without captain Virat Kohli in the last three Test matches, the Indian cricket team registered a win for the ages as they won the Border/Gavaskar Trophy by a scoreline of 2-1. They won their second successive Test series on Australian soil.
Sharing some details about what happened on the final day of the Gabba Test, Ravi Shastri had recently said on Star Sports:
"That was unbelievable, especially on that last day. I always knew at tea time, when we were three down, that it's pointless telling Rishabh anything. I can't tell you what the conversation was. From upstairs I went to the loo. These 2 young boys were having a chat – Gill, and Pant. Gill had batted magnificently to set it up with a brilliant 90."
The Aussies are scheduled to tour India this year for three T20Is and then for an ICC World Test Championship series. India will start as the favorite to win that series, but the 2024 one will be interesting because the Indian Test team will undergo many changes by then.
Fans on Twitter react to the massive announcement of India vs Australia series
Here's how fans on Twitter reacted to the big announcement:
India set to tour Australia for a 5 match Test series in November 2024.

— Mufaddal Vohra (@mufaddal_vohra) June 24, 2022
Captain Rishabh Pant winning this series.

— Imran Saiyyed (@SaiyyedImran) June 24, 2022
Five match test series. Virat Kohli and Steven Smith to peak again during that is all I ask. And for Pant to not throw his wicket in the 90s. https://t.co/iXmCP0RcWz

— Rayhaan (@Cricket_Savant) June 24, 2022
5 match test series 🥰😍🤩😘 https://t.co/ujCYjzuYmm

— Lakshya (@Hitherto_18) June 24, 2022
Most anticipated series coming https://t.co/BfnUqwpf0W

— Vj~Karthi (@KartiR6) June 24, 2022
So the BG Trophy is back to being 5 tests again… Wondered why it always wasn't… Easily a better contest than the Ashes. https://t.co/6RbyMWDJEa

— Utkarsh Tyagi (@Utkarshtalk99) June 24, 2022
For the first time since 1991/92!!!https://t.co/VSEvjAJhbs

— ᗰ (@im_LordBolton) June 24, 2022
Bande Mai tha dum recap on voot https://t.co/VFSEfhVQVB

— Rinkesh shah (@rikuroxs) June 24, 2022
Please please please please please please please please please please please @imVkohli @stevesmith49 https://t.co/CjyyQeKCjN pic.twitter.com/63E37mQM1h

— 944 days since Kohli scored a century (@gurudattaispog) June 24, 2022
Take us to Gabba https://t.co/Yc3CRHjEd0 pic.twitter.com/H9iwrzVWqi

— Rohan 🏏 (@Rohantweetss) June 24, 2022