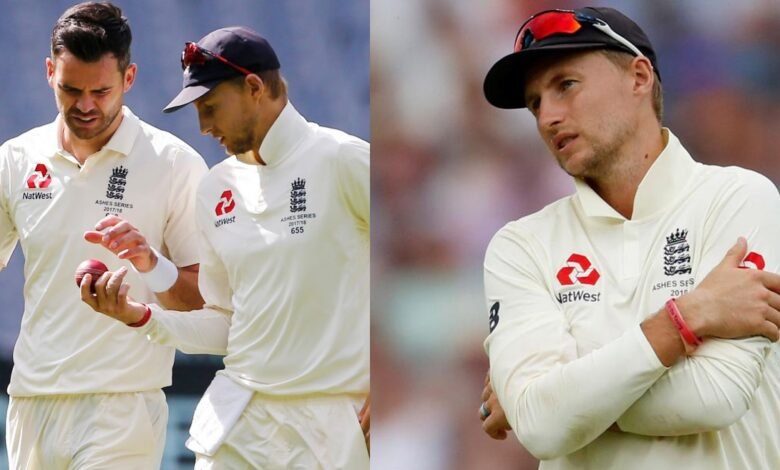 England fast bowler James Anderson is not very happy about the fact that the England captain Joe Root criticised the bowlers after going 0-2 down in the ongoing Ashes series. In the post match ceremony of the Adelaide test match, Root stressed the point that England's game plan with the ball on the first day of the game was wrong, and they paid the price for it.
According to Root, England should have bowled further up the pitch than they actually bowled because it would have brought so many different modes of dismissals into the picture. By bowling back of length most of the time, the England bowlers virtually took the LBW and the bowled out of the equation.
But, Anderson's viewpoint, which he expressed in his recent column for the telegraph, is different. He thinks the surface at Adelaide didn't have any help for the fast bowlers at all, and the pink ball didn't really do much either. So, the onus was on the batsmen to score big when they got their opportunity. The bowlers tried their "best" in the conditions that were on offer.
James Anderson is also of the view if the England captain Joe Root felt during the game itself that there was a need for the bowlers to change their lengths and bowl full, he should have asked for it midway through the game, rather than coming out after the game and saying the bowlers should have bowled fuller.
James Anderson and Joe Root have had their disagreements in the past too
There have been disagreements between Anderson and Root in the past as well and Anderson hasn't shied away from speaking about it in the public, but for the captain and the senior-most fast bowler of the side to have disagreements over the basic game plan and that too in the middle of a series as important as Ashes, the England fans would certainly not be happy about it.
Root has been very vocal about a "response" from the England players after back to back defeats, insisting that making the same mistakes again and again is something which can't be acceptable from an England test team playing at the highest level.
It would be interesting if Root persists with Anderson for the Boxing Day test match, where the pitch is expected to have a slight green tinge to it, or he drops England's highest ever wicket-taker to go with Mark Wood, who bowled with serious pace in the first test at Gabba.