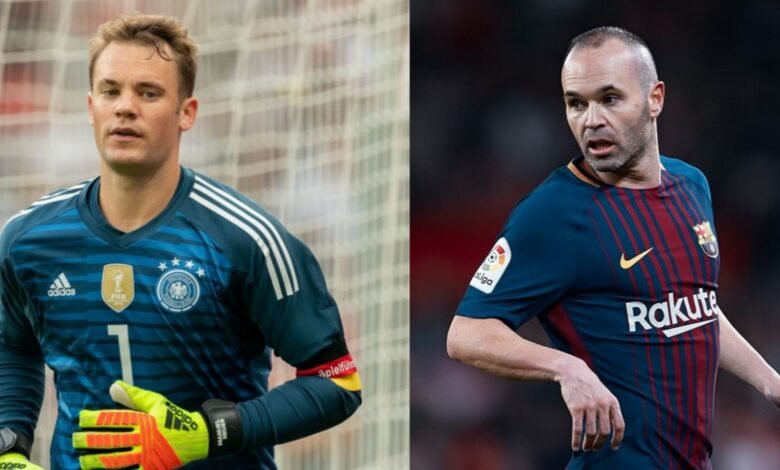 Over the years, many deserving players have failed to win the Ballon d'Or due to a variety of factors. Some of them lost a close contest, while others missed out by a fair margin. In this article, we will look at the best XI to have never won the Ballon d'Or.
Note:- Pele, Maradona and a few other South American legends do not make the list since the award was restricted to European players until 1995.
Goalkeeper – Manuel Neuer
The sweeper-keeper came closest to winning the award in 2014. Neuer won the Golden Glove in the 2014 World Cup and also won a domestic double with Bayern Munich. However, Ronaldo won the award in 2014 due to his record-breaking tally of 17 goals in UCL.
Right-back – Dani Alves
The most decorated player in the history of football, Dani Alves in his prime, was by far the best right-back in the world. He was a solid defender and an absolute menace for opposition going forward. He edges legends such as Lahm and Cafu for a spot in this XI due to his longevity.
Central defender – Paolo Maldini
Maldini is regarded by many as the greatest defender of all time due to his versatility and his gentleman attitude. Maldini played top-level football for 25 years at AC Milan and currently serves as the director of the club. In 1994 and 2003, Maldini finished third in the Ballon d'Or race.
Central defender – Franco Baresi
Partnering Maldini is the 1982 World Cup winner Baresi. Like Maldini, Baresi was also a one-club man who spent his entire career at AC Milan. In the 1989 Ballon d'Or, Baresi finished second, only behind fellow team-mate Marco Van Basten.
Left-back – Roberto Carlos
An adventurous left-back and a master of free-kicks, Carlos was a phenomenon and was worshipped by fans across the world. He was part of the early 2000s Real Madrid team filled with superstars and also formed a formidable partnership with Ronaldinho at Brazil.
Central midfielder – Andrea Pirlo
Pirlo changed what it meant to be a central defensive midfielder during his time at AC Milan. He had a solid defensive game but a brilliant understanding of the game which enabled him to be a playmaker. He never won the Ballon d'Or his Regista role revolutionized football in Italy.
Central midfielder – Andres Iniesta
Fondly called by fans as "The Illusionist", Iniesta did many things that were simply inconceivable for a common footballer. His elegance, poise and penchant for scoring goals in big games made him one of the best footballers in the world from 2008-2015.
Central midfielder – Xavi
A vital cog in Pep's Barcelona, Xavi changed football itself with his positional play and playmaking skills. He dictated the tempo of the game unlike any other player and was capable of splitting open defenses with a single pass. He is, without doubt, the best player to have never won the Ballon d'Or.
Left winger – Franck Ribery
In 2013, Ribery helped Bayern Munich to a continental treble and finished third in the Ballon d'Or race. Ribery was a beast as his dribbling, pace and work rate made him a fan favourite at Bayern Munich. Even at Fiorentina, Ribery continues to work hard, although his scoring rate has declined.
Striker – Thierry Henry
At Arsenal, Thierry Henry was an unstoppable assassin, as his speed and intelligence resulted in breathtaking goals. He also racked up assists, even more than the best playmakers of his era. Along with Ronaldo Nazario, Henry changed the definition of a centre-forward and should at least have one Ballon d'Or to his name.
Right winger – David Beckham
Beckham's status as a celebrity has resulted in an entire generation of football fans doubting his abilities as a player. But at Manchester United, Beckham was a world-class footballer who possessed the best crossing skills in the game. He was an incredible free-kick taker and also captained England before retirement.