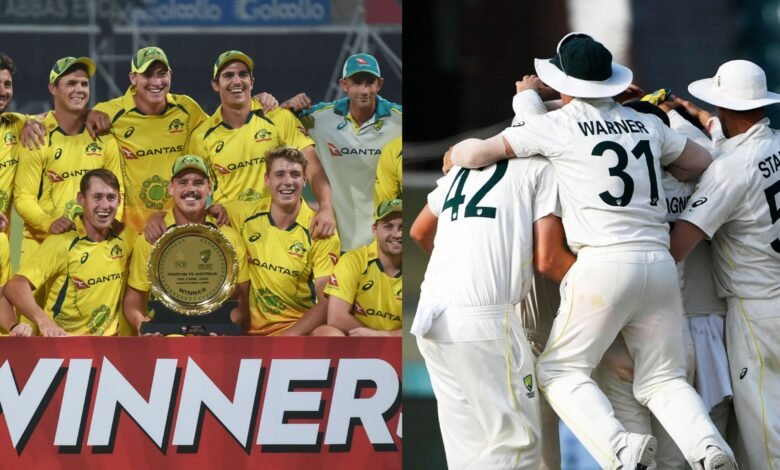 The Australian men's cricket team will be prepping for an insane cricket schedule that will see them taking one team after the other with a string of austere away series that has been slated in 2023. Put in a nutshell, Cricket Australia is all set to dive into 18-months of madness as the cricket season looms.
They will be up against Sri Lanka in their next assignment that will be starting in the upcoming month which will be kicking off an endless run of series, part of which will be played back at home while the remainders will be played away.
Foxsports.au also reported that in its hectic schedule of cricket, they will honour their word to cricket South Africa to tour the Rainbow Nation, squeezing in the following year.
The August 2023 tour that was initially supposed to be a three-match Test affair will now be five white-ball matches that will be followed by Australia's defence of the Ashes that they claimed so emphatically in the preceding year. The Ashes has been scheduled in June and July that will be followed by an inimical Test tour in the distant pastures of India slated to be in February and March.
South Africa took to heart a feeling of unhappiness when Australia chose to pull out of the scheduled series at the last moment amidst growing concerns about the Covid 19 pandemic. The tour was postponed back then but now Australia has decided to go forth with the tour, even though it is going to be a shorter format of cricket instead of Tests.
Australia's travels in 2020 and 2021 were minimal and now the upcoming two years will see them travelling frequently, making up for a lost time. Having toured Pakistan earlier, Australia will now be taking a trip to Sri Lanka to be a part of a bilateral affair with the Islanders.
Post their Sri Lanka tour, they will be up against Zimbabwe, New Zealand, West Indies and England Down Under which will be straddled on either side of the three T20Is that they have to play against India in September.
The number of white-ball games that Australia will be a part of against the formidable sides of the world, will prepare them physically and mentally for the upcoming T20 World Cup at the end of 2022.
There will also be white-ball affairs against England which will be followed by Tests against West Indies and South Africa in 2022-23, capping off the men's summer schedule.
The players will only be reprieved after the India test tour that will be played out in February and March, however, most of the Australian players may be a part of the IPL during that leave.
Such an enormous schedule signifies that multiple players will be rotated and Australia will have to make do with the constant changes as it is almost impossible for the same players to continue plying their trade with the bio-bubble in place. As a matter of reprieve for the Australian coaches, reports have it that Andrew McDonald will also be assigned a few tours to the assistant coaching staff in order to avoid their burning out.
Australia men's cricket schedule:
June-July 2022: Tour of Sri Lanka (3xT20s, 3xODIs, 2xTests)
August-September 2022: Zimbabwe (3xODIs) and New Zealand (3xODIs) at home
September 2022: White ball series in India (3xT20s)
June-July 2022: Tour of Sri Lanka (3xT20s, 3xODIs, 2xTests)
August-September 2022: Zimbabwe (3xODIs) and New Zealand (3xODIs) at home
September 2022: White ball series in India (3xT20s)