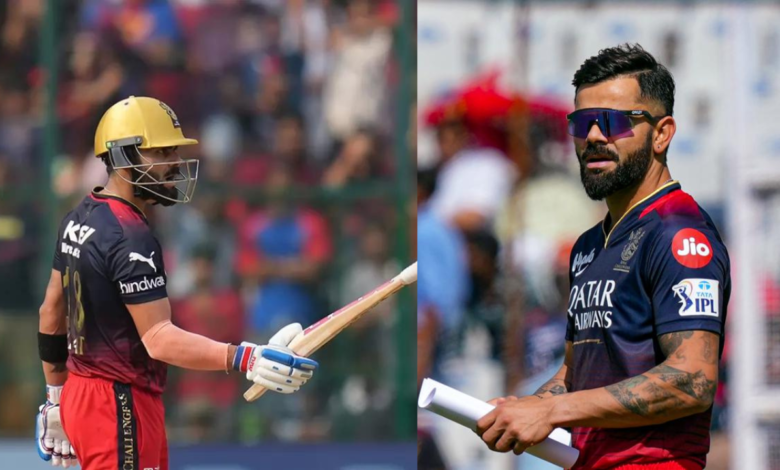 IPL 2023: After a two-year hiatus, Virat Kohli is once again leading Royal Challengers Bangalore. Together with Faf du Plessis, they put up 137 runs as the opening pair. Both players reached the fifty-mark. In the end, RCB's decent score was enough to beat Punjab Kings in the IPL 2023 encounter by a comfortable margin of 24 runs. Then why are so many legendary cricketers, like Matthew Hayden, Rohan Gavaskar, Simon Doull, Michael Vaughan, and now Tom Moody, critical of Kohli's performance? This is because of the RCB mainstay's strike rate.
Kohli was batting on 44 from 37 deliveries with just four boundaries as RCB approached 110 in the 14th over. After facing just four more deliveries than Kohli, Du Plessis stormed to 61 with the help of three sixes. Even when Kohli reached fifty off of 40 deliveries, the situation did not improve much. He batted against PBKS left-arm spinner Harpreet Brar and was out after scoring 9 runs off 7 balls. The total for RCB after 16.1 overs was 137. A run rate of just over 8 was, to put it mildly, below standard for a T20 cricket squad that hadn't lost a wicket for 16 overs.
Kohli's situation is unique in comparison to that of David Warner and KL Rahul. Warner and Rahul have been under fire this IPL for their lacklustre batting performances, especially given how long they have been at the crease. When on the powerplay, Kohli has been at his best when attacking the opposite team. In the opening six overs, he has scored at a fantastic strike rate while hitting boundaries at will. It's the overs just following the powerplay that gives the former India captain pause.
What did Tom Moody and Amol Majumder say about Virat Kohli in IPL 2023?
Since 2020, Kohli's strike rate between the seventh and ninth overs has been only 95, and that's when RCB lost one or fewer wickets in the powerplay. The spinners also tend to bowl more within this time frame. On Thursday, Kohli's strike rate was 76 against spin and 165 against seam. The fact that he has such a hard time overcoming quality indicates that there is more going on than merely a mental block.
"That's not pretty reading, isn't it? At the end of the day, that's something that needs to be looked at," Moody, a former SRH head coach, said on ESPNCricinfo.
Even while former Indian cricketer Amol Mazumdar thought it would have been OK if Kohli had batted all the way and increased his strike rate in the second part of the RCB innings, the former Australia all-rounder disagreed.
"I know Amol said that it's okay if Virat batted till the end but it's not really okay because they are not maximising as a team, the total they need to be getting," he added.
In other news "No Big Cricketers Looks Interested In Paying For Blue Ticks", Twitter reacts as top cricketers lose their blue verification tick on Twitter