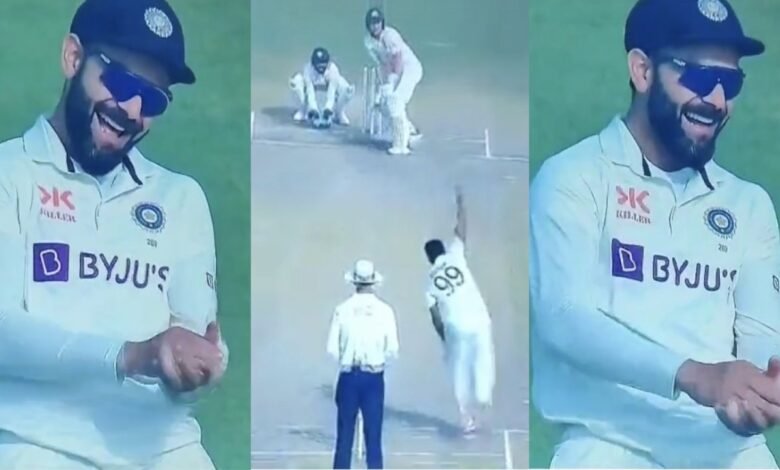 Fans on Twitter reacted after Virat Kohli gives hilarious reactions to R Ashwin's attempt to run out a non-striker in the second Test against Australia. They gave some joyful reactions to the batter's reaction and also lauded the off-spinner, saying Ash anna threatening both strikers and non-strikers these days.
Virat Kohli's hilarious reactions as R Ashwin attempts to run out the non-striker
The second Test between India and Australia ended in just three days with the Rohit Sharma-led side continuing to display dominating performance at home. They crushed the visitors by 6 wickets to take a 2-0 lead in the series and retain the Border-Gavaskar Trophy.
Day 3 in Test cricket if offered termed as the moving day in the longest format of the game. But it was a match-ending the day in the second Test between India and Australia as Indian spinners rattled the opposition and took 9 wickets for just 52 runs. They bundled out the Pat Cummins-led side for just 113 runs and then chased the target by 6 wickets.
While it was the brilliance of Ravindra Jadeja and R Ashwin with the ball, the Day 3 of the game also saw a few hilarious incidents as well. It was during the 15th over of the second innings when Ashwin tried to mock Steve Smith.
While bowling to Marnus Labuschagne, the off-spinner didn't release the ball and left the non-striker Smith rattled. He didn't try to run him out but attempted to do it as he was well amused at it. Even Labuschagne praised Ashwin's cheekiness. But who stole the limelight was Virat Kohli. The batter laughed out loud and even clapped in amusement.
Here's the video:
Kohli reactionpic.twitter.com/Vzhz3rtXyp

— Pushkar (@musafir_hu_yar) February 19, 2023
Fans on Twitter react to Virat Kohli's hilarious reactions as R Ashwin attempts to run out the non-striker
As Virat Kohli gave hilarious reactions to R Ashwin's attempt to run out the non-striker, fans on Twitter reacted to it. They gave hilarious reactions, saying Ash anna threatening both strikers and non-strikers these days. Here are some of the reactions:
Ashwin and Kohli, two amusing characters of Team India 😂 https://t.co/dH8nCuf5By

— Dipen Sharma (@dipensharma1105) February 19, 2023
This Guy 🤣🤣♥️ https://t.co/IFZpIWZQGo

— Komal✨ (@KomalVT) February 19, 2023
Aisa ek scene harr match m banta h😭 https://t.co/mXFq4O85ml

— Ayu~🇮🇳💙 (@LShivin) February 19, 2023
the only silly goofy guy girls like https://t.co/Rsatn60CEj

— 👤 (@khogayehumyahan) February 19, 2023
ashwin ke bowling pr striker se zyada non striker ki phat rhi hai 😭😭😭 https://t.co/A8SjCKbG1s

— Aayush (@herr_aayush) February 19, 2023
Kohli's got Hasbulla energy https://t.co/MV9PiOvbvi

— BrainVader (@VaderBrain) February 19, 2023
Can watch this any number of time 🤣😂 https://t.co/1qVerwja7E

— ᴍ|ᴍ (@mee2wee_) February 19, 2023
Ashwin na 🐐🐐🏏🏏 …thinking one step ahead https://t.co/aHIaXHQrr2

— Madhan|kl stan acc (@networkissue_) February 19, 2023
Kohli ash bromance🫶🏻 https://t.co/VFQvlsZxZw

— Sandy(CSK's version) (@SandyStorme_) February 19, 2023
Anna having fun 😭😭😭 https://t.co/LACxDxH3L9

— Varun Kamalapurkar (@lookforvarun) February 19, 2023
It's a wholesome feeling watching Virat smile..! https://t.co/RAS2SzgJmo

— Arun Showri (@runwrites) February 19, 2023
is it just me or Kohli sach me boht zyada taali maar raha aaj jal https://t.co/GYV9ptLnPZ

— retired ICT fan (@anubhav__tweets) February 19, 2023
ashwin 🔥 https://t.co/3TRCEZFcQ0

— Agaraadhi (@agaraadhiboy) February 19, 2023
Kohli is every one of us when it happened 😂❤️ https://t.co/VvImw4sytL

— Kushal ⭐⭐ (@Harami_Sindhi) February 19, 2023
Revolutionary Anna 🫡

— Chaitanya (@cha1tanya47) February 19, 2023
😂😂😂
Ash anna threatening both strikers and non strikers these days…🤸‍♂️😎
G.O.A.T🥵❤️‍🔥

— VK18_FEVER (@raaghul_07) February 19, 2023
Kholi always brings positivity and aggressive approach on the ground.king

— Safeer Khan (@SafeerK48453085) February 19, 2023