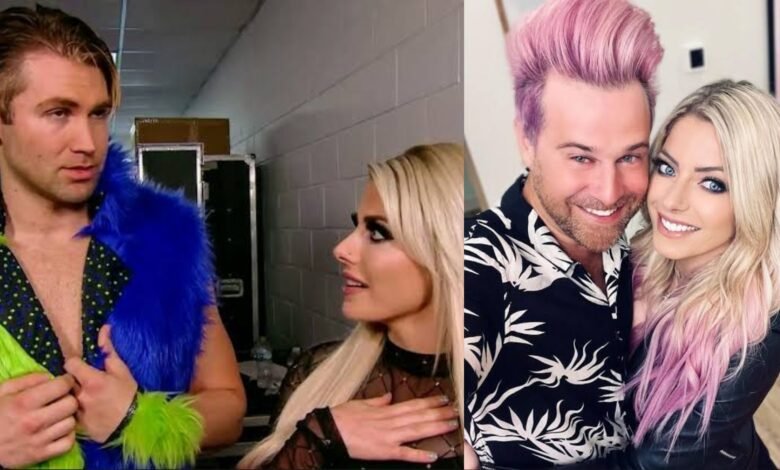 Alexa Bliss has established herself as a significant force in the women's wrestling roster and with every passing day she continues to impress. Even in the recently concluded Royal Rumble, despite Bianca Belair's towering imposition of herself. Alexa Bliss did manage to put up a good fight before the former could manage to prise out a three-count.
Over her countless years of changing gimmicks that saw her ruling the roost with an iron fist, she has also shared a handful of romantic interests in the ring. Earlier this year she tied the sacred knot with musician Ryan Cabrera but before it unfurled, she has had a pretty feisty romantic life around the ring. Here is a list of six superstars that were romantically rumored to be with her:
#1 Ex-boyfriend of Alexa Bliss – Buddy Matthews
Alexa Bliss & Buddy Murphy Rumored To Have Called Off Engagement — Now Single https://t.co/YnqskQuVNb

— PWStream (@PWStream) May 6, 2019
During her 3-year stint on NXT, Alexa Bliss was the manager of Wesley Blake and Buddy Matthews who was also known as Buddy Murphy. While working together, the couple developed feelings for each other and that is where it all started. In 2016, Murphy and Bliss announced their engagement.
However, a shift in the professional obligations forced things off. In early 2018, the duo called off their engagement and went their separate ways that now sees Buddy dating Rhea Ripley.
#2 Former NXT Champion Tyler Breeze
#RAW Alexa Bliss and Tyler Breeze

2013 2019 pic.twitter.com/4Kzh3B93Ov

— FRANK (@TheNextBlGThing) April 2, 2019
In 2010, Tyler Breeze registered with WWE. Between 2013 and 2015, he and Alexa Bliss started sharing the NXT locker room.
From there, they went onto perform on the same brand labelled as Smackdown. Despite the rumors running wild of the two dating each other, things were snuffed out in the very roots for Breeze was married to former NXT star, Audrey Marie.
#3 Former WWE Universal Champion Braun Strowman
Braun Strowman 🤝 Alexa Bliss pic.twitter.com/zXxMkGfWLg

— WrestlingWorldCC (@WrestlingWCC) May 5, 2022
The duo signed with WWE around very close proximity and ever since the start the duo started kicking off well.
The relationship started going deeper and they even worked together for a few times on screen where they teamed together to be a part of the Little Big Team as they appeared in the Mixed Match Challenge in 2018. However, the rumors of the duo dating were slashed apart by them as they termed themselves as nothing but best friends.
#4 Mike Rome
Alexa Bliss gives Mike Rome his just desserts: WWE Exclusive, July 26, 2018 captures: https://t.co/F9pRCwPD7q pic.twitter.com/o3PZllnSF2

— AlexaBliss.net | Alexa Bliss Fansite (@AlexaFansite) July 26, 2018
Since signing with WWE in 2016, Mike Rome has been phenomenally working as a ring-announcer and has also taken several backstage interviews on NXT, Smackdown and Monday Night Raw.
However, a few years ago, Rome did a few funny segments with Alexa Bliss where he offered to take her out for dates but she kept on rejecting his advances. The couple were believed to have been dating at one point but the hearsays were never fuelled considering the fact that they were nothing but just amazing friends.
#5 No way Jose
Just heard a rumor that No Way Jose is dating Alexa Bliss….insert Ron Simmons…. pic.twitter.com/uDwhtJtsa9

— Down The Aisle Show (@the_aisle) July 12, 2019
After his early days in the independent wrestling circuit, he joined WWE in 2015. In 2018, he made his debut in RAW where Alexa Bliss was running riot.
In 2019, seeing the time that they spent together, rumors started flying high. However, it all met a disappointed end with the two being seemingly friends.
#6 Ryan Cabrera has tied the knot with Alexa Bliss
WWE's Alexa Bliss and Ryan Cabrera got married today https://t.co/GKxbsKmYW9 pic.twitter.com/NIUBxBZ1z0

— Wrestling News (@WrestlingNewsCo) April 10, 2022
Ryan Cabrera is an American singer and is known for his works with the band called Rubix Groove post which he chose to pursue his solo career.
It was in 2022, the two decided to tie the knot after dating for a while, putting to bed all the rumors flying wild. The couple is doing happily after marriage and has been doing exceptionally well in terms of their individual walks of life where Alexa rocks the ring while Ryan rocks the stages.