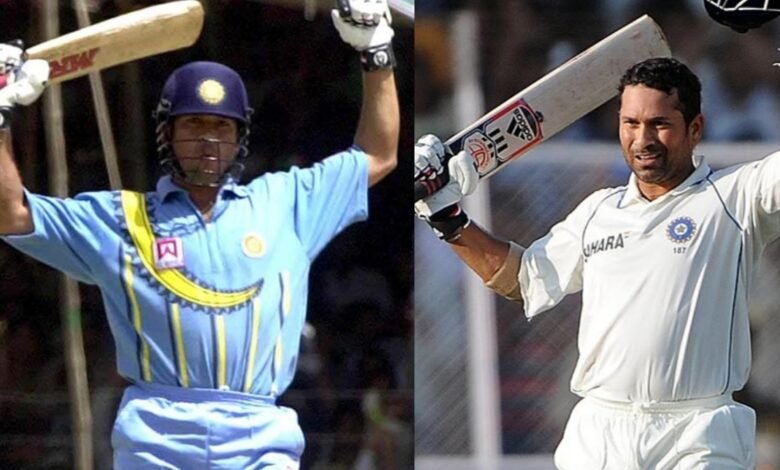 When it comes to international centuries, very few cricketers come even close to Sachin Tendulkar. Of course, there are other aspects of the game where Sachin has set almost unattainable records, too. Comprising 51 in Tests and 49 in ODIs, the Master Blaster has a total of 100 centuries to his name. Although he is known for his nervous nineties, Sachin has also had his score struck exactly at 100 runs on a few occasions. In this article, we take a look at six instances in which Sachin Tendulkar scored exactly 100 runs in International innings.
1) Opposition – Sri Lanka (Test Match)
Year – 2009 || Balls Faced – 211 || Venue – Ahmedabad
Usually, in Tests, a team can afford a batsman to get to a milestone and then announce declaration or up the scoring rate. Sachin team kept the team waiting for him to complete a century on very few instances. This match saw one such situation.
Sachin had failed in the first innings, and then Sri Lanka put 760 runs on the board. India had to draw the game, and on the final day, the squad had reached safety. However, Sachin was on the brink of a century, and VVS Laxman was close to his fifty. Hence, after Sachin scored his hundred, and VVS got to his fifty, the captains shook hands, and the game ended in a draw. Sachin was not out in this knock.
2) Opposition – South Africa (Test Match)
Year – 2010 || Balls Faced – 179 || Venue – Nagpur
A year later, Tendulkar scored exactly 100 runs again in his Test career. Although the circumstances were similar, the end result was different. Team India conceded a shocking innings defeat to South Africa in this game.
After the Proteas scored 558 runs in the first inning, India got bundled out for 233 in response and was then asked to follow on. Sachin scored just seven runs in the first inning, but was India's only centurion in the second. India made 319 runs, and even this was not enough to breach South Africa's first inning score. At 100, the Mumbai batsman was clean bowled by spinner Paul Harris.
3) Opposition – Pakistan (ODI)
Year – 1996 || Balls Faced – 111 || Venue – Singapore
In the 4th ODI of the Singer Cup Tri-Series in 1996, both India and Pakistan needed a win to get close to the finals. Having won the toss, Pakistan put India to bat, considering the conditions were overcast.
India had a rather slow start to the game. Opening alongside NS Sidhu, Tendulkar held one end as wickets fell at the other. After he got to his 100, Tendulkar tried taking on the bowlers and was stumped out by Saqlain Mushtaq. Pakistan later won the game convincingly and reached the finals.
4) Opposition – Australia (ODI)
Year – 1998 || Balls Faced – 89 || Venue – Kanpur
Just two years later, Sachin Tendulkar scored exactly 100 runs in an international game. This time, it was against his favourite opponent Australia at Kanpur.
After Ajit Agarkar's magic with the ball, which helped India restrict Australia to 222 runs, with a stellar batting unit, the hosts had a reachable target to chase. Ganguly and Sachin were opening and took a calculative approach. The duo had a 175 run partnership before Shane Warne got Sachin out exactly at 100. Nevertheless, India chased the target comfortably.
5) Opposition – Kenya (ODI)
Year – 1998 || Balls Faced – 103 || Venue – Kolkata
In yet another tri-series, Tendulkar had an exact number of 100 against his name on the scorecard. This tri-series involved Kenya and Bangladesh, and at the end of it, as expected, India was the winner.
In fact, it was in the final that Sachin scored exactly 100 runs. Opting to bat first, Kenya could only manage 196 runs in the first inning. India had a 77 run-partnership, but when the team was close to the target, the men at the crease were in a dilemma. While Sachin was close to his hundred, the No.3 batsman Ajay Jadeja was in touching distance to his fifty, but the runs required were fewer. Nevertheless, both batsmen got to 100 and 50 respectively, and India exactly reached the target of 197. Sachin was not out in this knock.
6) Opposition – Australia (ODI)
Year – 2003 || Balls Faced – 119 || Venue – Gwalior
A few months after Australia defeated India at the 2003 World Cup, the teams met again in a series in India. New Zealand joined in as the third team.
In the second ODI of this series, India scored 283 runs, of which Sachin had scored exactly 100. VVS Laxman, too, got a century in this game. India managed to defend this total, with Sachin also chipping in with a wicket.