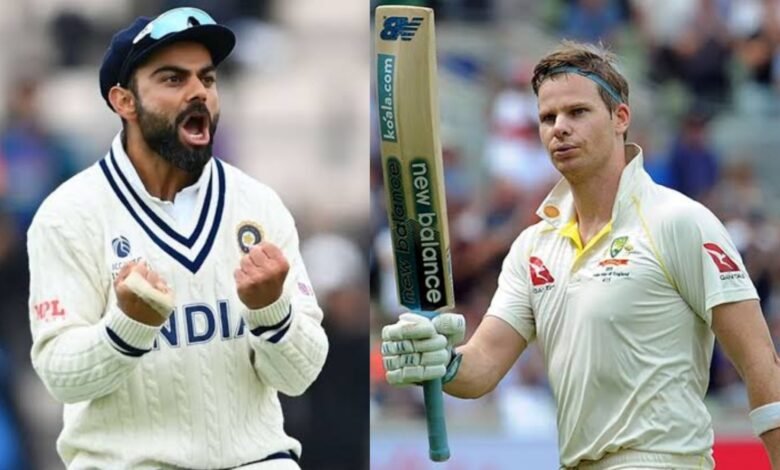 Test cricket is the toughest arena for a player to excel. For many cricketers, achieving success in the longest form of the game is the ultimate motive. For the viewers from outside, comparing cricketers of different generations is interesting. ICC's Test rating points offer help in that regard. Don Bradman stands at the top of the list when it comes to the highest Test ratings attained by a batter. The legend achieved 961 points back in 1948. Not many have come close to this number so far. On that note, in this article, we take a look at the list of active batters with the highest Test rating points in their careers so far.
1) Steve Smith (Australia) – 947
Although he started out as a spinner, Steve Smith pulled off one of the most incredible turnarounds in the game's history by becoming an elite batter. 2014 to 2017 was the best phase in his career. In each of these years, Smith made more than 1000 runs in the five-day format.
In the last game of the Ashes against England, Smith scored an 83. He had also scored a double-hundred in that series. All of it helped Steve Smith put on 947 points on the board. This still remains the second-highest ever in the history of the game.
2) Virat Kohli (India) – 937
Virat Kohli stands at No.2 in this list of active batters with the highest Test rating points in their careers so far. One of the greatest players the game has seen, Virat is the Indian with the highest peak rating points.
Like Smith, Virat also achieved his highest number in 2018 against England. That year, Virat scored more than 1300 Test runs, the best year for him so far in his Test career. Hence, he attained 937 points and climbed up the charts.
3) Marnus Labuschagne (Australia) – 936
Marnus Labuschagne is a surprise name on this list. The current No.1 batter in Tests, Marnus has, so far, had just one year where he managed more than 1000 runs.
However, it needs to be noted that the Aussie's rise has coincided with the COVID-19 pandemic. Also, Marnus has not played too many games in overseas conditions. He would want to prove it in other nations to establish himself as an elite batter of this generation.
4) Kane Williamson (New Zealand) – 919
One of the members of Fab 4 of this generation, Kane Williamson's name in this list does not come as a surprise. It was at the beginning of 2021 that the Kiwi got this number. He also became the No.1 Test batter then.
Kane Williamson was one of the main reasons why New Zealand won the World Test Championship. His batting skills along with his captaincy were the catalyst to the team's success.
5) Joe Root (England) – 917
It was way back in 2015 that Joe Root achieved his career-best rating of 917. Compared to the other members of this list, it was many years ago that Root stamped his authority in Tests.
In 2015, he had scored more than 1300 runs while the next season, he increased this number to almost 1500. However, the best was when he scored more than 1700 runs in 2021. One of the best batters of this generation, Root is also close to touching the 10000 run mark.
6) Cheteshwar Pujara (India) – 888
Cheteshwar Pujara is also part of this list of active batters with the highest Test rating points in their careers so far. 2017 was the best year for India's best No.3 in recent years. In that year, he scored more than 1000 runs and after the Colombo Test, he attained his career-best of 888 points.
However, Pujara is out of Team India right now. That said, he has made a comeback after a strong show in County Cricket. It needs to be seen how his career progresses from now on.