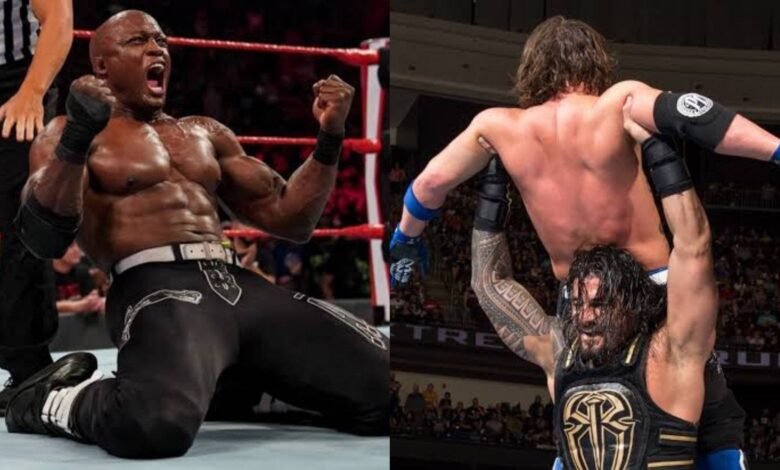 With Roman Reigns still being the undisputed champion and now that WWE has removed Jey Uso from the storyline, one of the most obvious questions that loom large is whether the company now has anyone who can challenge Roman Reigns for the title once again? Well, the answer is yes and to be very honest, it isn't just one but many wrestlers who can actually challenge the Tribal Chief.
However, challenging Reigns doesn't necessarily mean that they would actually walk away with the win. With all said and done, they can push for the title and if things go right, may be and just maybe they may push for the belt later down the ages or maybe set up a title hunt. Here are the five wrestlers who can challenge Roman Reigns for the WWE Undisputed Championship at the Crown Jewel.
#1 AJ Styles
It has been a while since AJ Styles have made a few ripples hither and yon. However, knowing the history of Styles and being the phenomenon, he can wreak havoc and would be a perfect contender for Roman Reigns at the Crown Jewel. More importantly, he will also be matching the stature of the individual who can be destructive.
#2 Bobby Lashley
The Almighty has been on a rampant run but then it has been a while since he has actually gone face to face of his size. Last time he collided with Roman, things didn't end on a decent note. He would be hoping to change things and maybe seek atonement for his earlier miss as he challenges Roman Reigns.
#3 Karrion Kross
There was a time when Kross did serve a warning to Roman Reigns but the question is whether WWE brings him back to such a massive challenge. However, considering his fighting style, his gimmick, his anti-hero stature, he can be one of those rare wrestlers who can actually run Roman Reigns to the wire and steamroll him as well.
#4 Sheamus
Sheamus has been doing the rounds for the mid-table cards too frequently and has been doing this for a while. He would be expecting to climb the ladder for some time and what better way to bring the heavy load straight to the Tribal Chief. Not only would he get the push to the top again but he also can get a shot at finding that unstoppable version of himself.
#5 Solo Sikoa
Maybe and just maybe, it may be too early for Solo to make this move but once again WWE has proven us to be wrong in the past. If Rock and Roman Reigns is the final chapter in the Bloodline which is to happen in the Wrestlemania, then Solo should already make a move, making Roman Reigns into a mega-heel and also give the WWE universe what it wants.