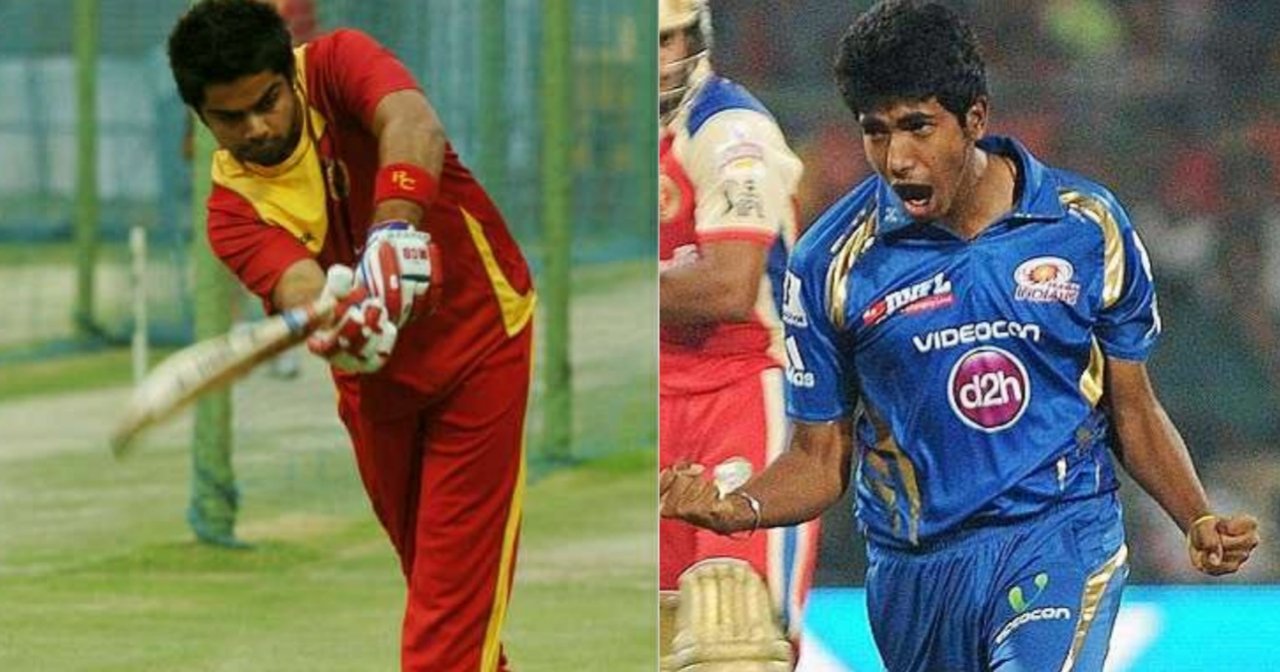 The first pay-cheque for any individual, from any domain, will always be a memorable one. More so for the sportspersons, whose income rises parallel to their performances. Talking about Indian Cricket, although almost every division in the country keeps players on payroll, the money that comes from IPL is unmatched. It's almost your first big-ticket to stardom!
In this article, we talk about the first salaries of the popular members of the current Indian Cricket Team. Their current wages are, of course, huge but it is their exponential rise that will catch your attention.
1. Virat Kohli – INR 12 lakhs (IPL 2008)
He is currently the highest-paid cricketer in the competition, but his pay was a whopping 100 times less back in 2008. Fresh from leading India to a U19 World Cup win, a draft format was made to distribute U19 players amongst the eight franchises. The then Delhi Daredevils got the first opportunity to pick a player, and they exercised their option by signing Pradeep Sangwan.
The baton then moved to Royal Challengers Bangalore, and as they say, the rest is history. At the moment, Virat Kohli is the only player to have played the longest amount of time for one franchise.
2. Rohit Sharma – INR 3 crores (IPL 2008)
Rohit Sharma had already made a name for himself by that time. The Mumbai player had won a T20 World Cup by then and was slowly manufacturing faithful performances.
He was earmarked as a guy for the future, and the Deccan Chargers took the charge at the auctions. They bid aggressively for their man and eventually got hold of him for INR 3 crores, which was also an immense amount then.
3. Jasprit Bumrah – INR 10 lakhs (IPL 2013)
The leader of the Indian Cricket Team's bowling unit across formats, Jasprit Bumrah's rise is one for the big screen. Having lost his father early, the speedster was supported by his mother as he took giant strides in domestic cricket. Mumbai Indians always had eyes on the Gujarat catchment area, and Bumrah was one of their finds. They procured him for a small amount of INR 10 lakhs then.
While many felt the investment was because of Bumrah's unorthodox action, Bumrah surprised many with his concrete bowling skills. In no time, the guy started making noise with his displays and became one of the hottest properties in the game.
4. Hardik Pandya – INR 10 lakhs (IPL 2015)
Hardik Pandya also belonged to the Gujarat catchment area, although he represented the Baroda Cricket Team. A pace-bowling all-rounder is a rarity in Indian cricket, and Mumbai spent INR 10 lakhs to develop a product that would fill their vacancy for many years.
The all-rounder's arrival to fame was due to his big-hitting, but he also backed it up with some fine bowling performances. Hardik then replicated his shows season after season and soon, he saw himself batting at No.6 or 7 in the Indian Team.
5. KL Rahul – INR 10 lakhs (IPL 2013)
Even in the local tournaments, KL Rahul was never seen as a limited-overs cricketer. A player with a brilliant technique, KL's future had shades of 'white'. Nevertheless, RCB saw the all-format potential in him and signed him up for INR 10 lakhs.
Although KL had a challenging start, he made amends with an eye-catchy show in 2016. After that season, the Bengaluru boy made his debut in the white-ball formats and is currently one of the best batsmen in India.