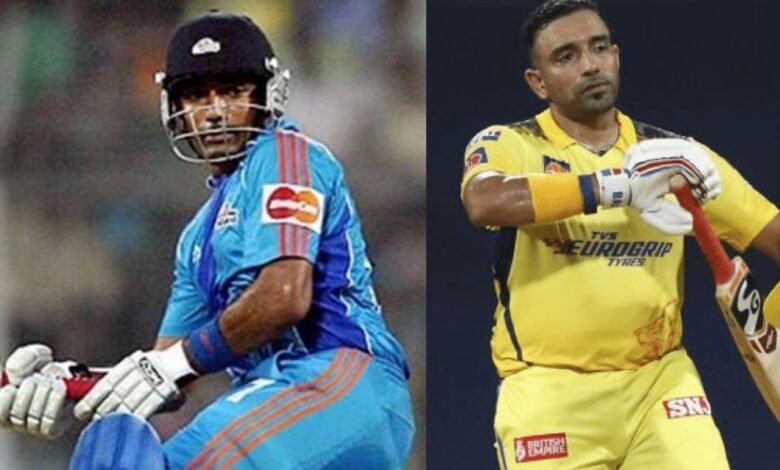 The popularity of the Indian Premier League is dependent on the fanbases of Mumbai Indians, Chennai Super Kings and Royal Challengers Bangalore. Almost every season, we, at least, witness one of these two teams starting their IPL campaign on the first day. Many upcoming cricketers also want to be a part of this squad to spend some time with legends such as MS Dhoni, Virat Kohli and Rohit Sharma. Interestingly, until IPL 2022, a few cricketers played for all these three famous units. On that note, here, we take a look at the list of five players who played for RCB, CSK and MI in IPL history.
1) Robin Uthappa
Robin Uthappa started his IPL career with Mumbai Indians. However, after IPL 2008, he was traded to RCB, where he spent two seasons. In IPL 2010, Robin actually had a memorable campaign.
Later, he represented teams such as Pune Warriors India, Kolkata Knight Riders and Rajasthan Royals. However, in the final few seasons of his IPL stay, he donned the yellow jersey for Chennai Super Kings. He helped the franchise win the trophy in IPL 2021 with some impactful knocks.
2) Parthiv Patel
Parthiv Patel is one of the players who played for RCB, CSK and MI in IPL history. While the other cricketers have had short stints in at least one of the franchises, Parthiv is someone who spent sufficient time in all these three squads.
While he started his IPL career with CSK, he later represented the other two squads. In fact, for RCB, Parthiv had two seperate stints. Now, though, he is a part of the scouting unit of the Mumbai Indians.
3) Tim Southee
Tim Southee's first franchise in the IPL is Chennai Super Kings. Later, between 2016 and 2017, he represented the Mumbai Indians. In between, he also had a stint with Rajasthan Royals.
Amongst these three franchises, RCB is the latest to have hosted the Kiwi cricketer. Currently, he is operating at Kolkata Knight Riders, which is also a popular franchise.
4) Adam Milne
Adam Milne is also one of the players who played for RCB, CSK and MI in IPL history. It was during Daniel Vettori's time that RCB picked up the speedster from New Zealand. However, he was not able to justify his selection.
In recent seasons, pace is rated highly in IPL. Hence, in 2021, Milne played for MI and most recently, he played for CSK in IPL 2022. However, in 2022, he suffered an injury and had to be replaced midway through the season.
5) Karn Sharma
Not many know but Karn Sharma actually started his career at RCB. He was part of the team way back in 2009. However, it was only in Sunrisers Hyderabad that Karn came out as a top cricketer. He even played for India after that.
For both MI and CSK, the Railways leggie was sold at a high price. He also won a few trophies for them. In a complete arc, Karn is now a part of RCB. He was picked by the franchise at IPL 2022 Auctions and retained him ahead of IPL 2023.