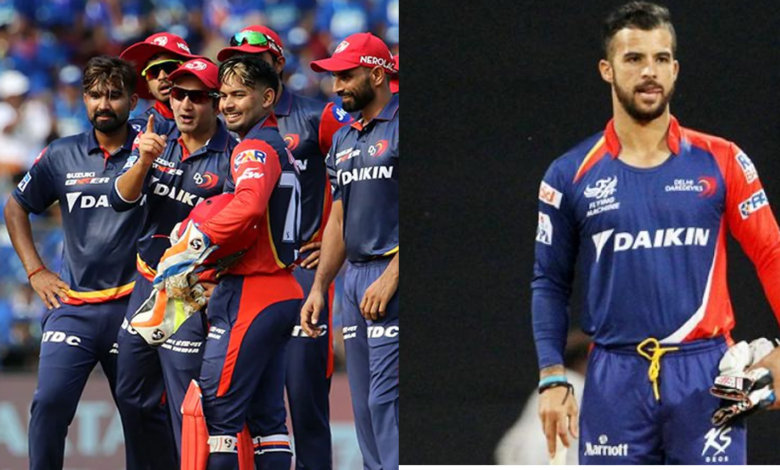 Although Delhi has done well in recent seasons, they are actually one of the most underperforming teams in IPL history. While they reached playoffs in the first two editions, Delhi struggled to make an impact later on. They also ended with the wooden spoon on many occasions. With any franchise of this performance, there are bound to be multiple captain changes. Delhi was no different in this regard. Before Rishabh Pant, they have had eleven captains and not many remember a few captaincy stints. On that note, in this article, we take a look at the list of four players you might not know once captained Delhi in IPL history.
1) James Hopes – 3 Matches (2011)
Win: 0 || Loss: 2 || NR: 1
James Hopes is one of the players you might not know once captained Delhi in IPL history. The current bowling coach of Delhi Capitals, when he was playing for the franchise in IPL 2011, Hopes got a chance to skipper the squad.
Delhi had lost seven out of the first eleven encounters and captain Virender Sehwag pulled out of the remaining games. Hence, the Aussie all-rounder was put at the helm despite not having much captaincy experience. Delhi could not win any matches under hopes and eventually ended the season at the bottom of the points table. As expected, Hopes never led a side again in IPL.
2) Mahela Jayawardene – 16 Matches (2012-2013)
Win: 4 || Loss: 11 || NR: 0
Although Mahela Jayawardene joined the franchise in IPL 2012, he got to captain only in 2013. The Sri Lankan cricketer was previously part of Kochi Tuskers Kerala and after the franchise left IPL, Delhi signed Mahela at the auctions. The team also added players such as Andre Russell and Ross Taylor in IPL 2012 Auctions.
In 2013, Delhi finished at the bottom of the table. Hence, he did not get a chance again to lead the side. Kevin Pietersen took the responsibility in 2014. Jayawardene is currently the Head Coach of Mumbai Indians. As a coach, the former Sri Lankan skipper has already won a few trophies.
3) JP Duminy – 16 Matches (2015-2016)
Win: 6 || Loss: 9 || NR: 1
Former South African cricketer JP Duminy has also led Delhi in the past. Duminy has led South Africa in very few games and hence, it was surprising that Delhi appointed him as the skipper. However, he was one of the few experienced names in the team and the management did not have an option.
Duminy was given enough games to make an impact but he could not deliver. Delhi finished seventh in 2015 and Zaheer Khan was later appointed as the skipper of the franchise. For the first time after a long time, a pure bowler was given the captaincy in IPL.
4) Karun Nair – 3 Matches (2017)
Win: 2 || Loss: 1 || NR: 0
Karun Nair is also one of the players you might not know once captained Delhi in IPL history. Although he started his career well at Rajasthan Royals, Karun could not sustain the form. In IPL 2017, he played at Delhi under the captaincy of Zaheer Khan.
However, after Zaheer Khan was injured, Karun was given the role of captaincy. This was despite the presence of Angelo Matthews in the squad. Karun was decent, as he earned two wins for his team. Since then, Karun has had it hard in IPL. While he was unsold in the first round of IPL 2022 Auctions, he was signed by Rajasthan Royals in the accelerated round. It needs to be seen how he would perform next season.