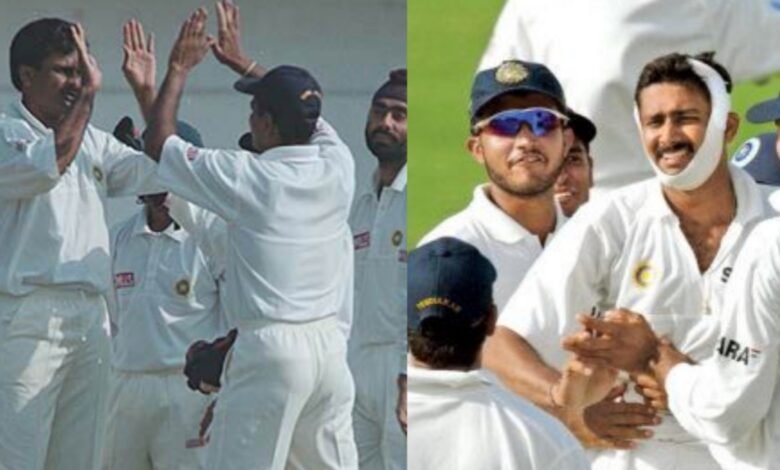 Test cricket is regarded as the oldest and truest version of the game. We don't see many players sporting bowling shoes in the modern age of the game. In order to bowl out the opposition, a team commonly utilizes three to four key bowlers and a handful of part-timers. To keep their bowlers fresh, every team has at least 2-3 backup choices. it is a very rare occasion in which we could be able to see 10 or more bowlers of the same team bowling in the very same match.
Moreover, in the past, many captains felt obligated to use their bowlers to their maximum potential to achieve desirable outcomes, especially in Test cricket. As cricket is a sport of exciting mysteries, charismatic leadership made it even more appealing by incorporating new tactics in the game.
We must have seen several unusual events happening on the cricket field but instances of ten or more players bowling in a single Test inning are very rare.
Here, let's take a look at the four matches where the Indian team used 10 or more bowlers in a single inning of a Test Match.
1. India vs England, 1st Test, Chennai, January 1964
In January 1964 the England team led by Mike Smith toured India for a five-match test series. The first test which was the 551st Test match was played at the Corporation Stadium, Madras. Indian Skipper, Mansur Ali Khan elected to bat first on the spinning track of Madras.
India declared after scoring 457/7 in the first innings owing to the brilliant centuries from Budhi Kunderan (192) and Vijay Manjrekar (108). Fred Titmus was exceptional with the ball for England, picking up a five-wicket haul. Coming out to bat, England were bowled out for 317 after decent knocks by Brian Bolus (88) and Ken Barrington (80). Chandu Borde led the Indian bowling attack with five wickets under his belt.
With India ahead in the game, England made a comeback as they restricted the hosts to 152 and once again it was Fred Titmus who bowled brilliantly for his four wickets.
England needed 293 runs to win the match and just then something unusual happened as Mansur Ali Khan used ten bowlers except wicket-keeper Budhi Kunderan. England got close to the target as they scored 241 runs but eventually, the match ended in a draw.
2. India vs Australia, 2nd Test, Kanpur, November 1969
The 2nd test of Australia's tour of India in 1969 which was the 666th Test match marked the debut of the Indian veteran batsman Gundappa Vishwanath. Mansur Ali Khan elected to bat first at the Green Park, Kanpur. India posted a total of 320 runs in the first innings thanks to the opening pair of Farokh Engineer and Ashok Mankad who scored 77 runs and 64 runs respectively. Alan Connolly was the pick of the bowlers for Australia with four wickets to his name.
Coming out to bat, Australia grabbed a lead of 28 runs as they scored 348 runs owing to a magnificent century by Paul Sheahan (114). Trailing behind, a century on debut by Gundappa Vishwanath (138) guided India to a total of 312/7.
With the last day of the match and a target of 285 runs for Australia, the game was certain to end in a draw. Mansur Ali Khan once again used ten bowlers in the final innings of the match except for Wicket-keeper Farokh Engineer. Australia scored 95 runs and eventually match ended in a draw.
3. India vs Zimbabwe, 2nd Test, Nagpur, November 2000
After winning the 1st Test of the series against Zimbabwe in 2000, India were eyeing a whitewash in the second Test at the Vidarbha Cricket Association Ground, Nagpur. Indian skipper Sourav Ganguly opted to bat first, and the decision turned to be a good one as India recorded 609 runs on the board. Sachin Tendulkar scored a terrific double-ton (201)* alongside Rahul Dravid's 162.
The Indian bowlers followed it by restricting Zimbabwe to 382 runs despite a century from Grant Flower (106)*. India were way ahead in the match as they imposed a follow-on to Zimbabwe.
But, Andy Flower had other ideas as he notched a splendid match-saving double century (232)* alongside support from Alistair Campbell who scored 102 runs. Ganguly used 10 bowlers in an attempt to break the partnership of Andy Flower and Alistair Campbell. However, the plan didn't work as the match ended in a draw.
4. India vs West Indies, 4th Test, Antigua, May 2002
The 4th Test of India's tour of West Indies in 2002 was a high-scoring one with just only two innings possible in the match. West Indies skipper Carl Hooper elected to bowl first at the Antigua Recreation Ground, St John's, Antigua. India started well with decent knocks from Wasim Jaffer (86) and Rahul Dravid (91). It was followed by brilliant centuries from VVS Laxman and Ajay Ratra who scored 130 and 115* respectively to guide India to a total of 513.
Coming out to bat, West Indies hammered 629 runs thanks to the centuries from captain Carl Hooper (136), Shivnarine Chanderpaul (136)*, and Ridley Jacobs (118). Indian skipper Sourav Ganguly applied an interesting and unusual tactic to get a breakthrough as he handed the bowling duties to all the 11 players including the wicket-keeper Ajay Ratra too. However, the tactic didn't work as the match ended in a draw.
There are other teams like South Africa, West Indies who bowled 10 or more bowlers in their Test Match game history.