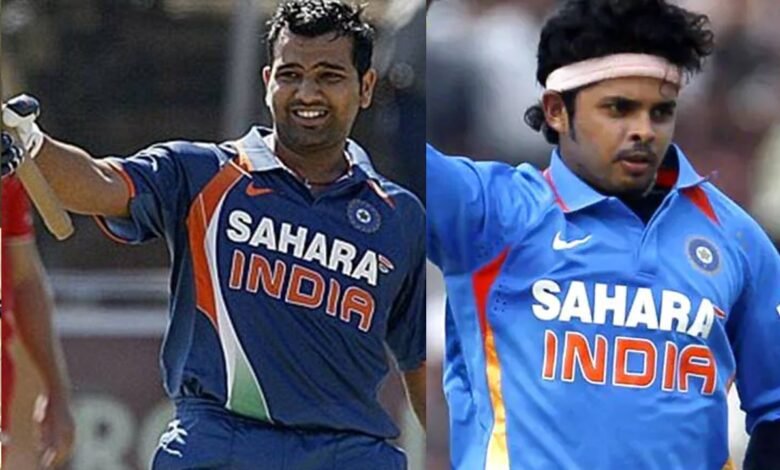 Although he started slow, Rohit Sharma had a quick rise to the elite group of the game, especially in ODIs. After he got converted into an opener, there was no looking back for Rohit. He scored a lot of centuries and caught up with many who went past him on the list of most centuries. As a prodigy, Rohit was rated very highly. Hence, he earned an early debut. It was in 2007 against Ireland in Belfast that Rohit played his first ODI game. It was an easy win for India as both Sourav Ganguly and Gautam Gambhir scored half-centuries to help India cross the line. Rohit, though, did not get a chance to bat. On that note, here, we take a look at two players you might not know played in Rohit Sharma's debut ODI match in 2007.
1) S Sreesanth
S Sreesanth did well in the early part of his career, across all the formats. The fact that he won both the T20 World Cup and the ODI World Cup is proof of how important he was to the Indian Team then.
In this game, too, the Kerala cricketer collected three wickets. He helped India restrict Ireland to a cheap score. After the spot-fixing scandal, Sreesanth found it hard to make a comeback. He did feature in domestic cricket but recently announced retirement from all forms of the game.
2) Ajit Agarkar
Ajit Agarkar is one of the players you might not know who played in Rohit Sharma's debut ODI match in 2007. Rohit Sharma and Ajit Agarkar appear to be from different generations. However, interestingly, Ajit was part of Rohit's first-ever ODI encounter.
Ajit is someone who went under the radar during his time. He played 191 matches to collect 288 wickets. The Mumbaikar sometimes even offered something with the bat. Currently, he is a coach with the Delhi Capitals in IPL.